Speaking Notes of Bishop Brendan Leahy
Meeting of Synod Delegates
Radisson Blu Hotel, Limerick, January 31st, 2015
Speaking Notes of Bishop Brendan Leahy
We are about to take another step on the journey towards the Synod. I know that some of the delegates are getting nervous. But perhaps it's helpful to remember there are two sides to our nerves. On the one hand, some of what we are feeling might be a holy fear! Remember Moses and the Burning Bush. He was told to take off his shoes before the burning bush because he was walking towards a sacred space. There was a reverence and almost sacred fear before an event of God. Perhaps some of our nerves might come from realising that the Synod is also a work of God and we need to tip toe into what is the sacred time and the sacred space of the Synod. Of course, alongside all of this there are also our natural fears: will we up to the task? How are we to go about it? What exactly are we to do? I think today will help us and I am grateful to Christopher Schoch for coming to facilitate today.
As we start this morning, I would like to recall a few points that Pope Francis made in his letter on the joy of the Gospel (Evangelii Gaudium). In particular, I'd like to focus on what he said about "discernment".
Pope Francis says that at this time in the Church we need a "resolute process of discernment, purification and reform". This is no small thing. It's not just a question of tweaking the system a little as if we were simply doing up the old house. The Holy Spirit is doing something new and we need to tune into that. And for that we need to "discern" what it is we are to do as we begin again in mission.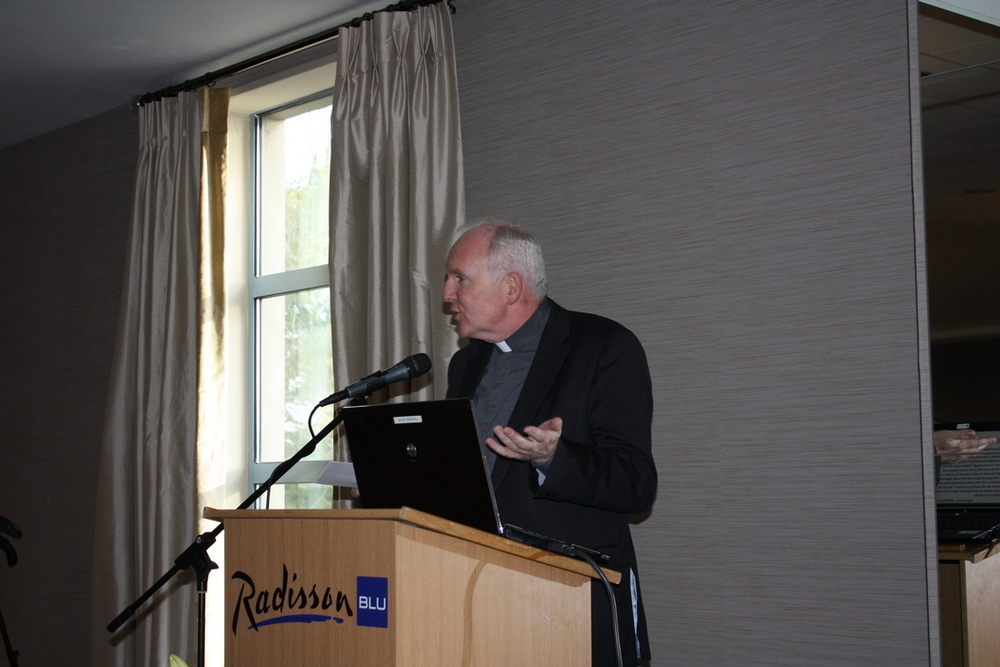 The word "discernment" is a word that Pope Francis uses a lot. It means making out what direction to go in; distinguishing the right or wrong direction. In other words, it is like standing at a cross roads, remembering where we've come from and trying to read the road signs in order to work out where it is we want to go and how to get there.
But, the Pope reminds us, "the important thing is to not walk alone, but to rely on each other as brothers and sisters, and especially under the leadership of the bishops, in a wise and realistic pastoral discernment." This is important. We might feel anxious but remember each one here has been chosen. Somewhere along the way, your application or nomination was approved. So trust in the grace that goes with being part of this. You're not on your own. There's help available to you.
We were asked to bring a symbol with us. I decided that I'd bring a medal that I won for hurling when I was younger. I couldn't find the medal so I've brought the memory of that medal and what it says to me. So I am placing that here today.
It says a few things to me. When it came to hurling, let's put it this, way, if Donal O'Grady had been around at that time, he needn't have worried about competition from me! But that didn't matter. I was a member of a team; I even got to play even in Croke Park (admittedly on a reduced pitch – it was an attempt to encourage Dubliners to take up interest in hurling) and clearly the game didn't just depend on me alone. That's how it is. Our participation in the Synod process doesn't depend only on us or on our competencies or on our efforts alone. There's help. We are members of a team. God will show us the direction.
Going back to Pope Francis, he really wants us to let the Gospel guide us in our discernment. We see how this is the case in his own life. I heard someone say of him recently that "he is a Gospel man". We are to be Gospel people. It's the pure water from which to drink. Pope Francis: "In her ongoing discernment, the Church can also come to see that certain customs not directly connected to the heart of the Gospel, even some which have deep historical roots, are no longer properly understood and appreciated. Some of these customs may be beautiful, but they no longer serve as means of communicating the Gospel. We should not be afraid to re-examine them." We do this by what Pope Francis calls, "evangelical discernment" (Gospel Discernment).
What we will all be doing in the next while is offering people space to do this evangelical discernment and thinking, sharing, praying and reflecting together. As Pope Francis puts it, "we need to create spaces where [we…] can be helped and healed, places where faith itself in the crucified and risen Jesus is renewed, where the most profound questions and daily concerns are shared, where deeper discernment about our experiences and life itself is undertaken in the light of the Gospel, for the purpose of directing individual and social decisions towards the good and beautiful".
The point is that the Kingdom of God is already present and growing in our midst. It is bigger than us; it is greater than the Church. The Kingdom of God isn't just about our spiritual or religious or liturgical life. It engages us at every level of our being. We need to provide spaces to discover that together.
First and foremost, we need to let ourselves be brought into this adventure of discerning in our own lives and in the lives of those we will encounter in the Synod process where the Kingdom is present in our lives. What signs of the Kingdom are we seeing? A friend of mine working with young people on the preparation of a conference shared with me a point the young people said to him: you know, the questions change. They didn't just mean that we have new questions today compared with the past. Rather, they wanted to say that the questions we have and the questions that arise for us from others also bring about change in us.
We are being called to dig deeply into the resources of the Gospel, into our experience, into the Church's tradition, into the views of those we meet. The first answers we arrive at and the people who shout loudest mighn't always be the voice of the Spirit that we will eventually get to hear together in our Synod. But that doesn't matter. What matters now is to make sure we engage as many as possible.
Lets' remember that as delegates you aren't simply representatives like trade union officials or officers of an association. You have been chosen to be instruments in the hand of God. Just like a brush in the hands of an artist, we're being invited to let ourselves draw a design that comes from God. All the discerning and thinking that you'll be engaged in from now on, and not just in the official moments, is part of a process where the wisdom from above is maturing in you and it will be this wisdom that you will bring to the Synod – not your own opinions, not simply the reporting of what others are saying, but rather the wisdom that is in you from this year of dialogue, discernment and synodal process.
Let me finish with the basic point that I can never repeat enough. The key to all of this will be how much love I have in my heart as I talk and listen to people. There's a lovely line in the Gospel that clinches it. Jesus says of his relationship to us: "I in you and you in me". But since Jesus is in each person we meet, we can translate that phrase into our contact with others: "I in you and you in me", meaning let's try to enter into each other's perspective and insight so that the light that Jesus himself wants to bring will really shine out.
It is good that you are all here. Thank you. Do not be afraid.