Speaking Notes of Éamonn Fitzgibbon
Housekeeping:
The most important message for delegates today is 'Don't Panic!' There will be follow-up meetings to clarify the task which you are asked to engage in. For parish delegates these dates are already in place and are as follows:

Meeting of delegates from City parishes Tues 17th Feb 8p.m. LDO

Meeting of delegates from Western parishes Weds 18th Feb 8p.m. NCW

Meeting of delegates from Southern parishes Thurs 19th Feb 8p.m. Kilmallock

The remaining follow-up meetings will arranged today.

There are also 'Support Persons' available to work with you and support you. Finally, Noirin Lynch is currently meeting Pastoral Council members throughout the diocese to ensure that local leadership is geared up and ready to support you when you hit the ground!!

Synod Sunday - A day on which parishes will engage with the Synod process. Banners will be available to parishes. Delegates will be named and ritually 'affirmed' by the parish, liturgical resources such as prayers of the faithful will be provided. The Synod Prayer will be prayed at the Mass, Newsletter material for inserts will be made available. Delegates will speak at the Masses about the next phase at local level encouraging people to engage. We may have The Gospel of Luke for distribution at parishes by then.

Parish Packs which are available for widespread consultation on the other Synod – the Synod on the Family – are available for collection by each parish today.
A Few words about today.
Role of delegate: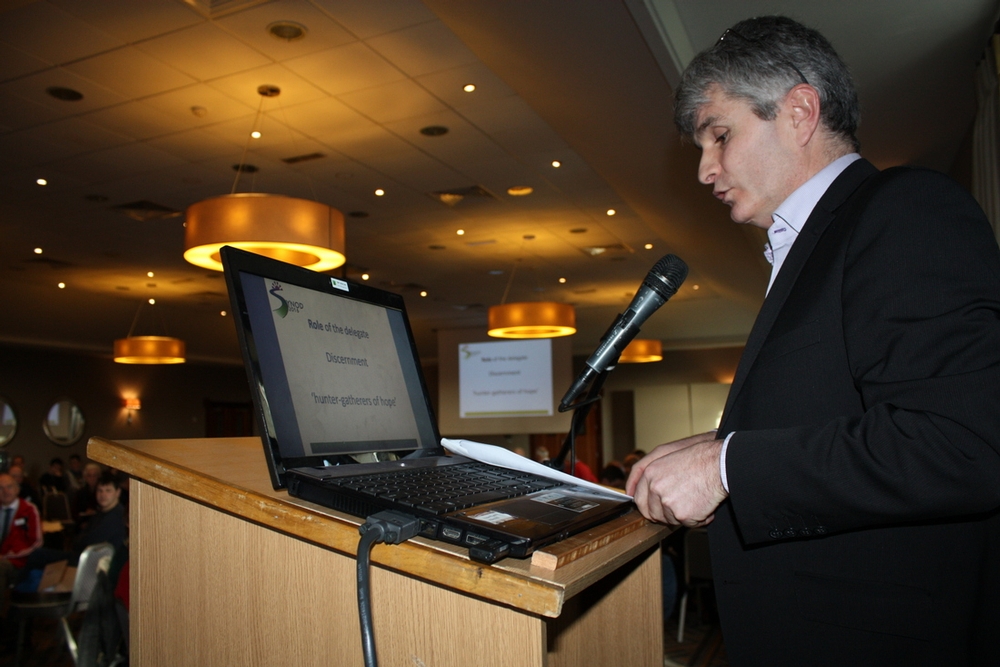 Each of us is the Synod – we are all on this journey, we are all open to transformation and conversion ourselves, not that I, Éamonn … or you as delegates are agents of the Synod, or providing the Synod for somebody else. No we too are engaged and on this journey of renewal and conversion.
Secondly that word 'representative' is proving difficult – I have struggled a bit with our facilitator for today – Christopher Schoch – around what it means and entails. In a certain sense the only one we can be fairly asked to represent is ourselves, also the word has connotations of lobbying, or speaking for political or interest groups or having to speak on behalf of another. I have been helped in my own understanding of this by Anne O'Byrne who is here as a delegate. Anne teaches in Mary Immaculate College on the area of Special Needs and Education. She is also the proud parent of Caoimhe, her teenage daughter, who is living with disability.
She was once asked to go on a committee representing those with disability and she explained that she would be unable to do so because she could only be part of the group as one who speaks 'from the perspective of' one who is a parent or educates others in this area. So each delegate can only represent themselves, and speak from the perspective of the community which they are a part of. Of course that speaking from the perspective is informed by your contact with that community, listening deeply and discerning God's Spirit. Your perspective is deepened by learning, praying, the Holy Spirit.
Secondly, I would like to say a few brief words about discernment, it is radically different from listening, there is something deeper here.
Finally today we will be invited to imagine ourselves as 'Hunter-gatherers of hope' – as delegates we will be out there looking for signs of God's Spirit at work. What is God doing in Limerick at this time? Where is the Kingdom of God breaking in? Where are there signs of hope, love, goodness? Of course this may not be in formal Church activity but we are invited to go out and as Pope francis says work from a missionary key.
These questions will help us to keep the discussion broad, open and inclusive and avoid the discernment phase 'honing-in' too quickly on issues and problems around Mass times, shortage of priests etc.
We need to begin with the faith question and help people to discuss their own faith journey and experience. It was felt that this spring semester might be the first phase of discernment with the emphasis on an open time of discernment about faith in the broadest sense, identifying where God is at work, looking for signs of hope, tracing the Spirit's activity. A time to allow people to name in their own everyday experience God in the 'ordinary bits and pieces of everyday'.
The second phase could come in the autumn when we might begin to explore and discern how the Church might serve or facilitate this – or perhaps better – having discerned something of what God is doing, then begin to name how we might join in.
This is very different to how we traditionally did things. In the past we tended to adopt a 'problem-solving' methodology in which people were invited to name the problems and deficiencies of our Church and if we could resolve these people might come back. Now, we are saying we need to go out and be with people so that together we can find new ways forward. For example, in the world of hospitality the decision was taken to 'invert' the hierarchical pyramid so that the CEO was at the service of the front-line staff
I will end with the following quotation from Pope Francis ' homily during World youth day in Rio de Janeiro:
"We cannot keep ourselves shut up in parishes, in our communities, in our parish or diocesan institutions, when so many people are waiting for the Gospel! To go out as ones sent. It is not enough simply to open the door in welcome because they come, but we must go out through that door to seek and meet the people! Let us think courageously about pastoral needs, beginning on the outskirts, with those who are farthest away, with those who do not usually go to church. They are the VIPs who are invited. Go and search for them in the nooks and crannies of the streets."
Pope Francis – WYD Rio de Janeiro