Journeying and praying together in Faith
Prayer is a central part of our Diocesan Synod. During the week of the Synod, (April 3rd - 10th); we invite everyone to keep us in your prayers and, where possible, to join us at liturgies being celebrated in parishes, pastoral areas and diocese.
We have offered parishes information on the music for these liturgies so that choir members and others can prepare and fully participate – particularly in the opening and closing liturgies for Synod2016! For more information see here
Everyone is invited to pray for our
Diocesan Synod.

All are invited to these special liturgies:
Opening Mass with Bishop Brendan in St John's Cathedral. Sunday, April 3rd at 7pm
Prayers in Parish: Every parish (via their parish priest) will receive a prayer pack in Easter week with prayer resources for use at daily Masses Monday - Thursday 4/5/6/7th, and for Sunday 10th
Pastoral Area Prayer Service: Wednesday, April 6th. (details below)
Closing Mass with Bishop Brendan in St John's Cathedral. Sunday, April 10th at 7pm
The Pastoral Area Prayer on Wed April 6th will be led by prayer guides, in local locations. Everyone is welcome and there will be special prayers for delegates and for the diocese.
Posters advertising all this are being sent to each Pastoral Area and are free to download above (click on your pastoral area details above). We are asking that these be displayed in all church porches over Easter so that a maximum number of people recieve the invitation to pray with us.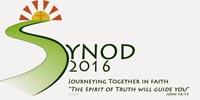 Our Synod Prayer
We stand before you, Holy Spirit,
conscious of our sinfulness,
but aware that we gather in your name.
Come to us, remain with us,
and enlighten our hearts.
Give us light and strength
to know your will,
to make it our own,
and to live it in our lives.
Guide us by your wisdom,
support us by your power,
for you are God,
sharing the glory of Father and Son.
You desire justice for all:
enable us to uphold the rights of others;
do not allow us to be misled by ignorance
or corrupted by fear or favour.
Unite us to yourself in the bond of love
and keep us faithful to all that is true.
As we gather in your name
may we temper justice with love,
so that all our decisions
may be pleasing to you,
and earn the reward
promised to good and faithful servants. Amen