Field-trip to France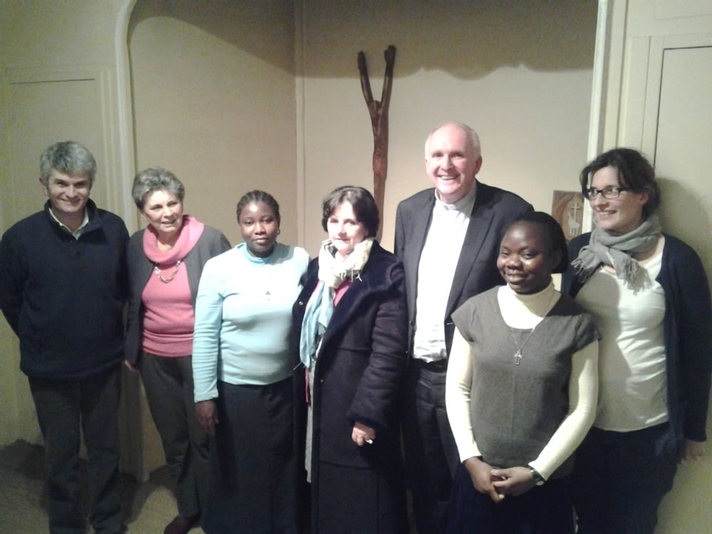 Bishop Brendan Leahy and Fr Éamonn Fitzgibbon with members of the Pastoral Area Team of Etampes
View photos from the trip here
From Tuesday January 26th to Friday January 29th a group of eleven clergy from the Diocese of Limerick travelled to the Diocese of Evry which is located to the south of Paris. They were travelling on a fact-finding mission as part of the diocesan preparation for a Synod which will take place in April 2016. In these final weeks before the Synod delegates are bringing forward proposals for action under the six themes that have been selected following widespread consultation. One of those themes is 'New Models of Leadership' and clergy of the diocese wish to make informed decisions around what that new model might entail.
The diocese of Evry was chosen as it has already built links with Limerick through John Maclellan a Meath man who was ordained for Evry back in 1989 and has built up friendships in Limerick. The diocese of Evry has much in common with Limerick as it too is a mix of City, Suburban and Rural areas. However, Evry has already faced the challenges now confronting Irish dioceses. It has a small number of clergy and has come up with a unique way of managing these challenges.
Following a long delay on the runway (because of yet another baggage handlers' strike in Paris) the group, led by Bishop Brendan Leahy and Bishop Donal Murray arrived in the town of Etampes. Our first meeting was with a director of Social Services for the Area – this was quite a unique meeting because there is a strict separation in France between Church and State but the director was able to outline the many challenges faced by the region and even how the local Catholic faith community could support a response. The social problems arise because many of the residents commute long distances into Paris for work and this inevitably erodes community and raises childcare challenges. There was much in what we heard that reminded us of our own reality and we also heard of the large hospitals and prison within the diocese which is a further connection with Limerick.
Our second meeting was with a volunteer Youth Ministry worker. We were all deeply touched by her enthusiasm and commitment. Because of the separation of Church and State catechesis and Sacramental preparation takes place in the Parish and Pastoral Area. It was interesting to hear how the Church can not go inside State schools or even place posters on the notice boards. Parishes creatively gather young people to 'friendship' sessions and prepare children for sacraments in these settings. Baptism is celebrated during mass.
On Wednesday morning we met with the retired Bishop, Guy Herbulot. He is now aged ninety and retired back in 2,000 but he was the instigator of this pastoral model. He still has extraordinary energy and enthusiasm and kept us all enthralled for ninety minutes while, with the aid of a translator, he elaborated on the vision which inspired him to introduce this way of working. Essentially he was working out of the vision of Vatican II and used the possibilities of the 1983 Code to the full. In his diocese the population increased from 400,000 to over 1000,000 within ten years. Cities mushroomed up and many migrants from French speaking Africa settled in the area. Through a succession of Diocesan Synods Bishop Herbulot introduced a new way of working which was a break from the traditional Parish priest and Curate model with which we are all accustomed. He developed lay leadership ate every level throughout the diocese and he concentrated on developing small Christian communities in the expanding sprawling cities and pastoral areas in the traditional parishes. He reminded us that the Church, which is the People of God, must see all the baptised as responsible for the faith community and encouragingly noted that 'It is not the Church that is dying but a model of Church. When he proposed his model to Pope John Paul II at an ad limina visit the pope remarked 'The Church must live'.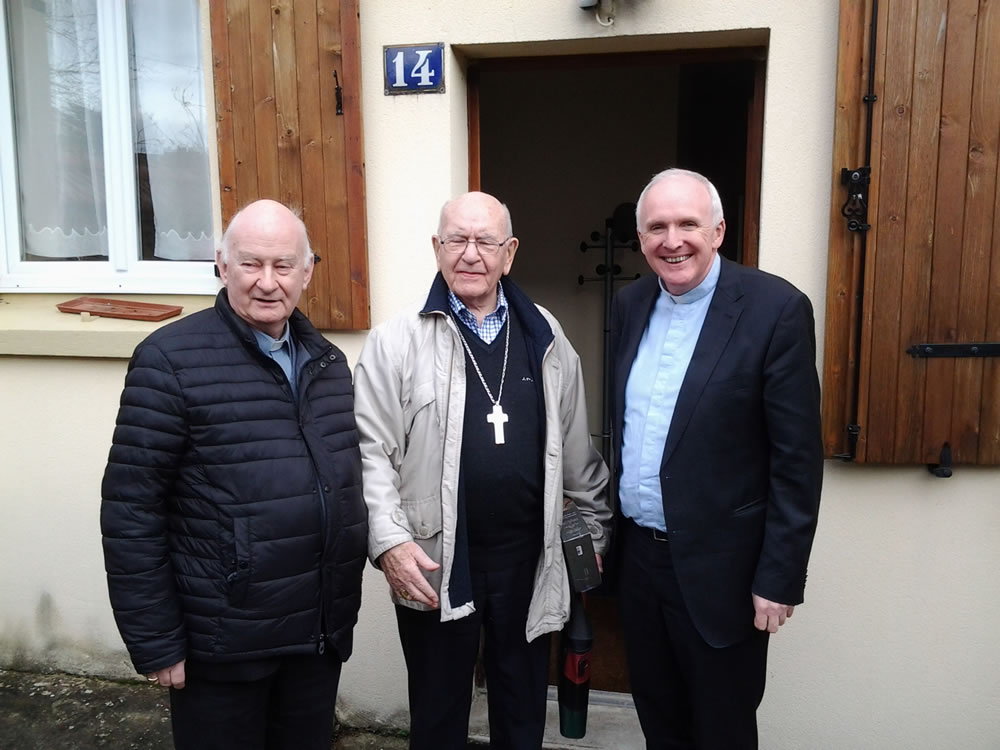 Bishop Donal Murray, Bishop Emeritus of Limerick, Mgr. Guy Herbulot, Bishop Emeritus of Evry, and Bishop Brendan Leahy, Bishop of Limerick.
Interestingly he emphatically declared that he never suppressed any parishes or closed any churches. He said that faith communities build on the human community – 'Building Community' is another theme for our upcoming Synod so this point was noted by all present. The overwhelming desire was to preserve local faith communities and priests would rotate around these communities.
Essentially the model works by creating Pastoral Areas and grouping parishes. Each area has a Pastoral team made up of priests, deacons religious and laity – both volunteer and salaried who work across the parishes and communities. There is a Pastoral council for the Area and this is made up of representatives of the various communities. Then, in each parish or community there is a local Animation Group.
Two words remained with us after the session with Bishop Herbulot. The first word is 'animation' – the local animation team engendered a discussion on how we can animate communities and people and also how the word has at its root the word 'soul'. The second word is 'encounter' – it is a word that Bishop Herbulot repeated many times and he spoke of the need to create encounters between people at every stage and level of the process.
In the afternoon we visited the beautiful Chartres Cathedral. Interestingly the site dates back to the fourth century and there have been at least five cathedrals on the site since that time. The cathedral faced many challenges and seemed to be beyond salvaging on many occasions but each time it was saved, protected or rebuilt by the faithful – even to the point of removing all the stained glass during WW II to protect the windows during bombing. We can see in Chartres a metaphor for the Church in our time.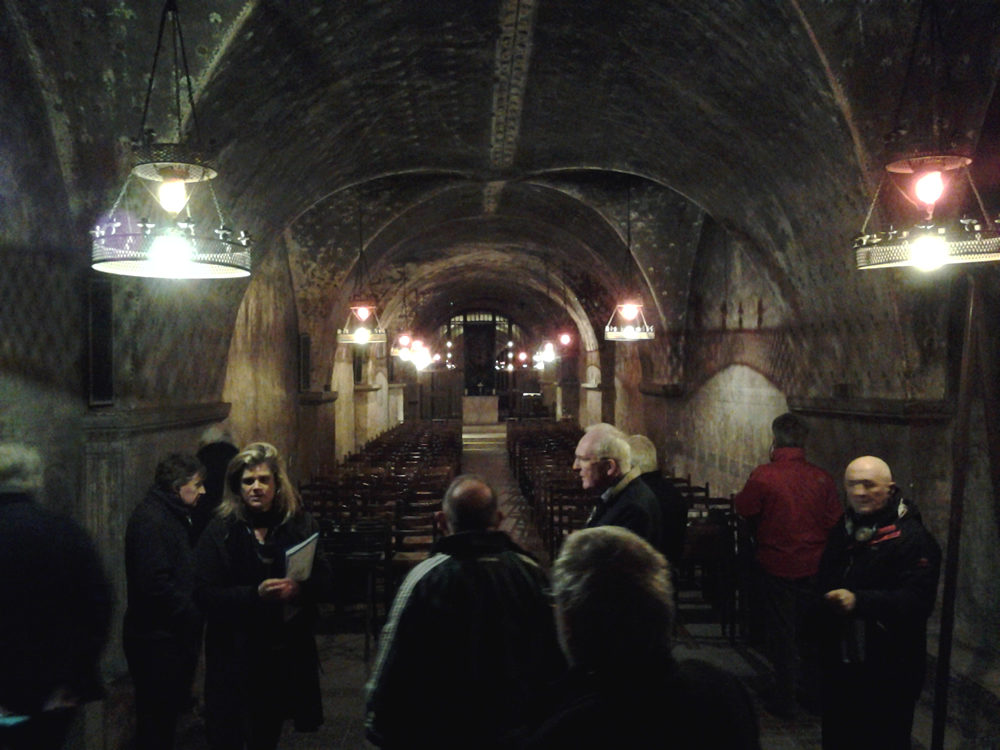 Later that evening we met with some members of the Pastoral Team which is headed by Fr John as Moderator. There is a team of five other priests, two St Louis sisters, a hospital chaplain, three deacons a catechist and a number of lay volunteers. This team serves a number of towns and villages containing no less than twenty-eight churches.
On Thursday we visited Grigny which has a population of nearly 30,000 and is faced with countless social challenges. There are eighty-six known nationalities with many coming from French speaking Africa. The city is severely indebted for about ten million euros. There is a large building complex of high-rise apartments with little or no community facilities, infrastructure or economic activities. The development was cut off by a large motorway and was thus separated from schools, shops, post offices and transport. Poor quality construction has compounded the difficulties. Over 45% are officially below the poverty line, youth unemployment stands at 33% and 58% of young people leave school without a diploma. This Pastoral Area has been entrusted to the Brothers of Charity – the Sisters of St Louis and the Sisters of Notre dame also reside in the area. The Pastoral Team here is made up of eight people six priests (of whom six are Religious), one permanent deacon, one Sister of St Louis. One of our group is a Franciscan Friar of the renewal or as they are known locally the Moyross Monks, Fr Charles Benoit-Reche, and he could all too easily identify with the facts we were hearing and similar problems in Regeneration Areas in Limerick city. The Pastoral Team in Grigny want to maintain visibility of the Catholic community whose leaders live among the people sharing their concerns and difficulties. The Moderator for this area, Fr. Michel Rapaud, reminded us that while the people may be poor they are rich in spirituality.
Later that day we had lunch with the current Bishop Michel Dubost, who is renowned for his work on Ecumenical and Interfaith relations.
Later that evening we had a meeting with Cecile, a local lady who has a strong interest in the history of Irish priests who served in this region from the Penal times. Cecile attended The Gathering in Ballina in 2013 and her recounting of the history of Irish clergy in France was not alone informative but it helped us to situate our current reality in a broader context.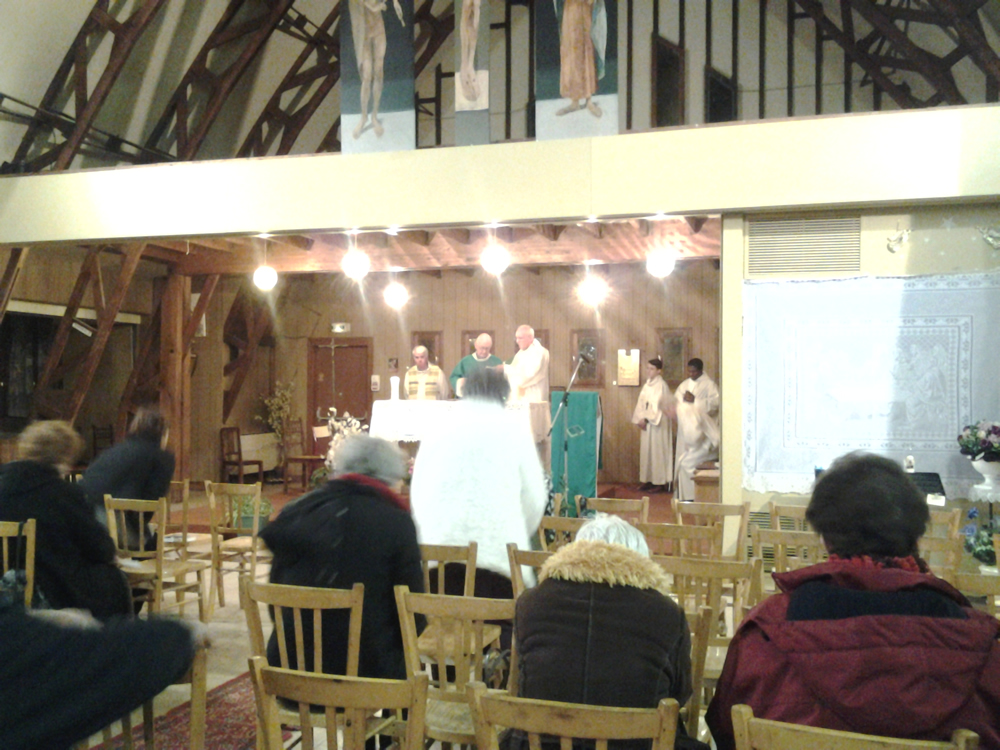 The fact finding mission concluded with a brief meeting of the eleven Limerick priests to review what we had seen and learned. The main points that struck us were as follows.
ll structures need to lead us to Christ, otherwise what is the purpose of the structure if not to bring us to Christ and create fraternal communities.
We were struck by the fact that Bishop Herbulot placed great emphasis on preserving and cherishing the local community; he emphatically refused to suppress parishes and close churches. We feel that this is an even more urgent issue in Ireland where, particularly, in rural areas the local parish is synonymous with identity.
There is a great need for a change in mind-set among both clergy and laity. As priests we can sometimes feel 'owned' by the parish; similarly some priests can become complacent and selfish essentially saying 'I'm alright' or 'It'll see me out anyway.'
We need to generate a real solidarity within our diocese between parishes particularly between the better off areas and poorer ones.
There was agreement that the visit brought us into contact with very positive and inspirational people who are truly living out their Christian calling (as laity and ordained) in a missionary 'key'. The Church in France is cash-poor but from what we saw the generosity of volunteers is very striking.
We are all agreed that changes are coming very quickly in our own diocesan structures and we need to make firm proposals around what might be done.
In the midst of this there is an opportunity, yes there is need for a different approach and a need to embrace a different future but we experienced something that is life-giving and encouraging.
Each evening we all gathered around the table where Fr John and his team prepared a meal – the sense of table fellowship, the conversation and fraternity, breaking bread together, sharing a meal and discussing our various situations added hugely to the whole experience. We need to be able speak in depth and honestly. Our meetings at home are often rushed and can seem to go nowhere. Being together is important. Not feeling alone is important. The group making the decision is important.
Into the future team is key, teamwork in which we support each other. It helps to break down isolation and negativity.
We all agreed that we need to bring the story of what happened us on the road home and share our experience with others.
(Report drawn up by Éamonn Fitzgibbon from notes taken by Noel Kirwan, Pat O'Sullivan and Liam Enright)
Why is Limerick holding

a Diocesan Synod?
A Question of Faith travelled to Limerick to hear about the Diocesan Synod that will be held in Limerick in April 2016.
Click here to view the video.