March 24th Synod Talks series: 'The History of Synods in Ireland'
Dr. Salvador Ryan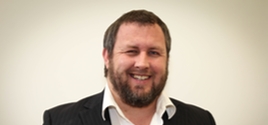 Eamonn Fitrzgibbon - March 23, 2015
Dr. Salvador Ryan is Professor of Ecclesiastical History in St Patrick's College, Maynooth since 2008. Alongside Bishop Brendan Leahy he has co-edited two volumes of Treasures of Irish Christianity.
The last Synod in Limerick Diocese took place in 1937 and the last National Synod of the Irish Church took place in the 1950's. Salvador Ryan will situate Synod 2016 in the context of the history of Synods in Ireland and enable us to determine what is continuous and new in the current initiative.
Date: Tuesday 24th March 2015
Time: 8.00 p.m.
Venue: Scoil Mhuire & Íde, Newcastle West Synod talks series
Why is Limerick holding

a Diocesan Synod?
A Question of Faith travelled to Limerick to hear about the Diocesan Synod that will be held in Limerick in April 2016.
Click here to view the video.